Comprehensive in vitro Proarrhythmic Assay (CiPA)

CiPA Panel The Comprehensive in vitro Proarrhythmic Assay (CiPA) is a series of assays designed to predict arrhythmias and not simply QT prolongation.
QT prolongation is a serious and widespread adverse drug reaction. One-third of drugs withdrawn from the market due to the adverse drug-induced arrhythmias. Drug-induced delayed ventricular repolarization in some cases may trigger a fatal arrhythmias-torsional apical ventricular tachycardia.
The hERG assay is currently considered a model of choice for evaluation of cardiac pro-arrhythmic risk. The safety guidelines issued by IchS7B, in 2005, mentioned all the drugs at the filing stage must have hERG evaluation assay data. As, is the technical guidelines for the extension of the drug QT interphase non-clinical research (2014) of the drug QT.
The sensitivity and specificity of the hERG Assay was a serious problem, therefore, in 2013 FDA starts promoting wide-range in vitro arrhythmia evaluation assay (CiPA, Comprehensive in vitro Proarrhythmia Assay). The CiPA pathway consists of four main elements, 1) assessment of drug effects on the critical human ventricular ion channel currents, 2) in silico integration of the ion channel effects to determine the net effects on the cardiac action potential, and 3) a check for discrepancies in fully integrated biological systems (stem-cell-derived cardiac myocytes and the human ECG) 4) clinical electrocardiogram evaluation.

ICE Bioscience offer different cardiac evaluatioN services.
ICE Bioscience Cardiac Ion Channel Panel
Targets

Function

Positive Control

Method*

hERG(GLP

available)

IKr, rapid repolarization (phase 3)

cisapride

MPC, APC

Nav1.5

INa, depolarization (phase 0)

TTX, flecainide

MPC, APC

Cav1.2

ICa-L, depolarization (phase 2)

nifedipine

MPC, APC

Kv7.1/minK

IKs/KvLQT, slow repolarization (phase 3)

Chromanol 293B

MPC, APC

Kv1.5

IKur, repolarization (atrial)

4-AP

MPC, APC

Kv4.3

Ito, repolarization (phase 1)

4-AP

MPC, APC

Kir2.1

IK1, repolarization (phase 4)

BaCl2

MPC, APC

Kir3.1/3.4

KAch, repolarization (atrial)

BaCl2

MPC

Kir6.2/SUR2

KATP

glibenclamide

MPC

Cav3.2

ICa-T, pacemaker current

NiCl2

MPC, APC

HCN2

If, pacemaker current

ivabradine

MPC

HCN4

If, pacemaker current

ivabradine

MPC

*MPC= Manual patch clamp, APC= Automated patch clamp (Nanion Patchliner ® /Qpatch HTX48)
1. Research on multple cardiac ion channels

ICE cardiac panel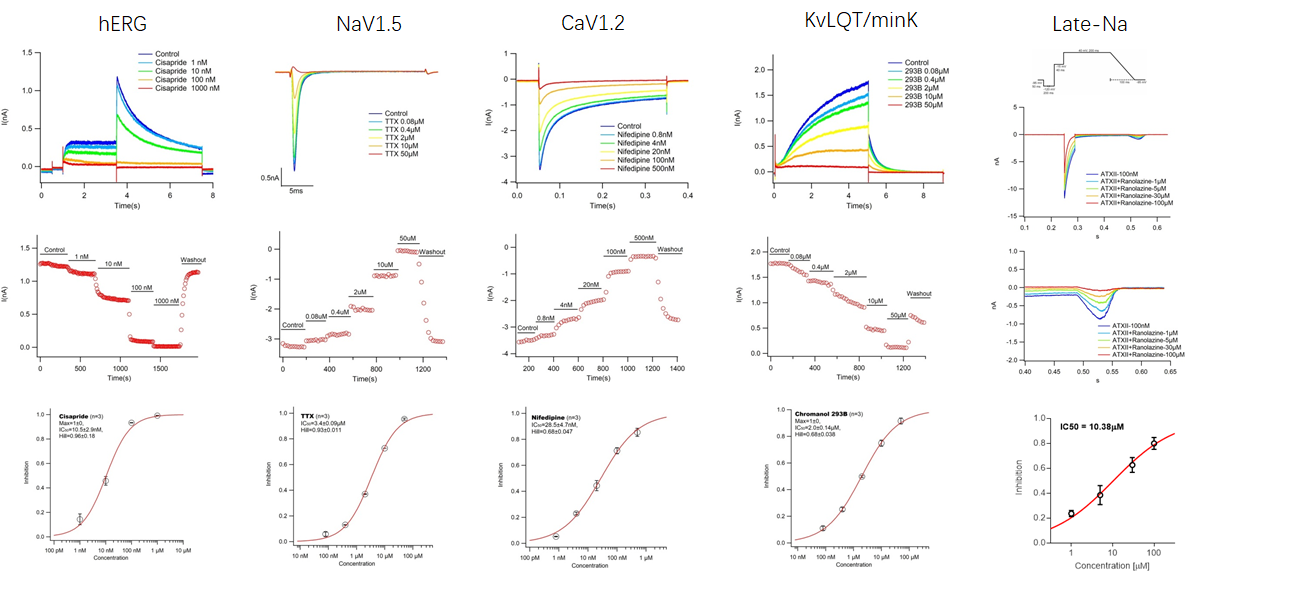 ICE cardia panel (CiPA protocol)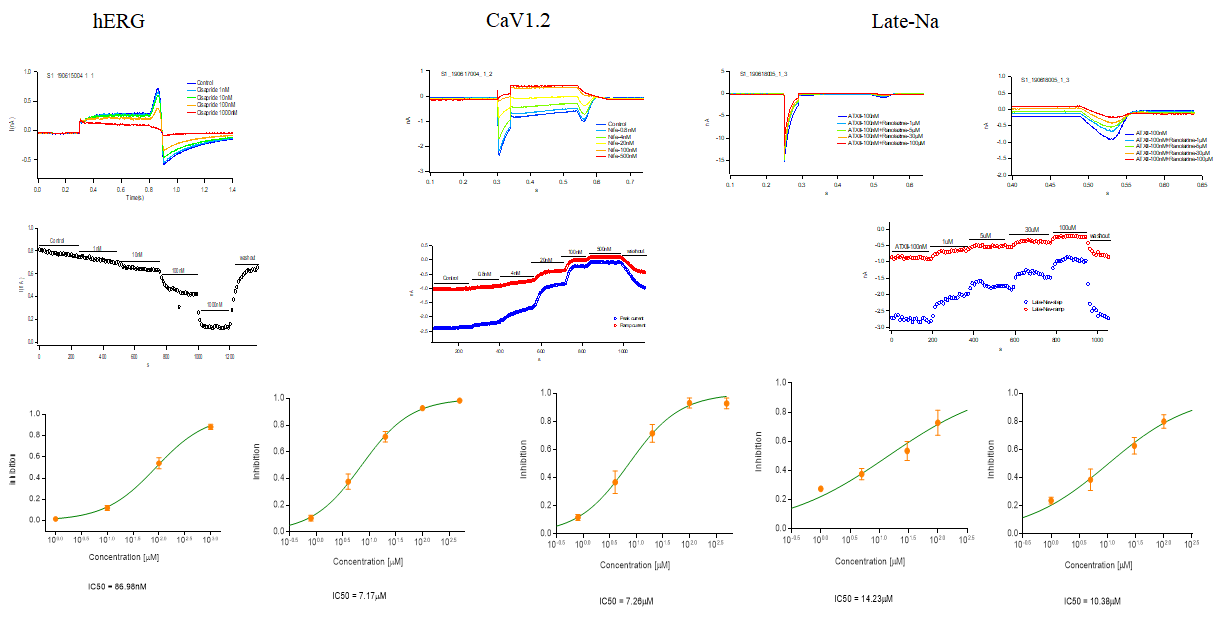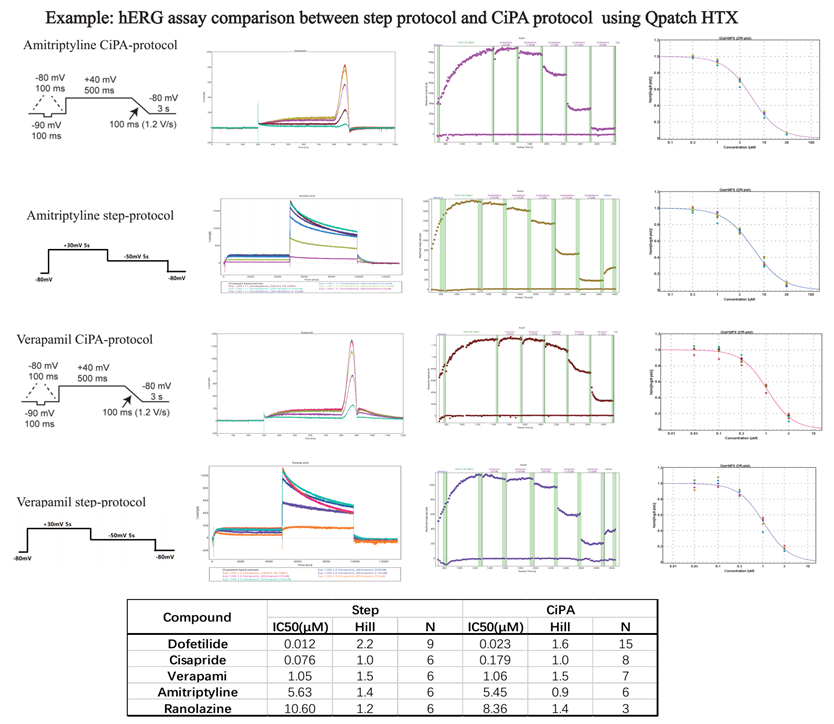 IPSC derived cardiomyocytes AP